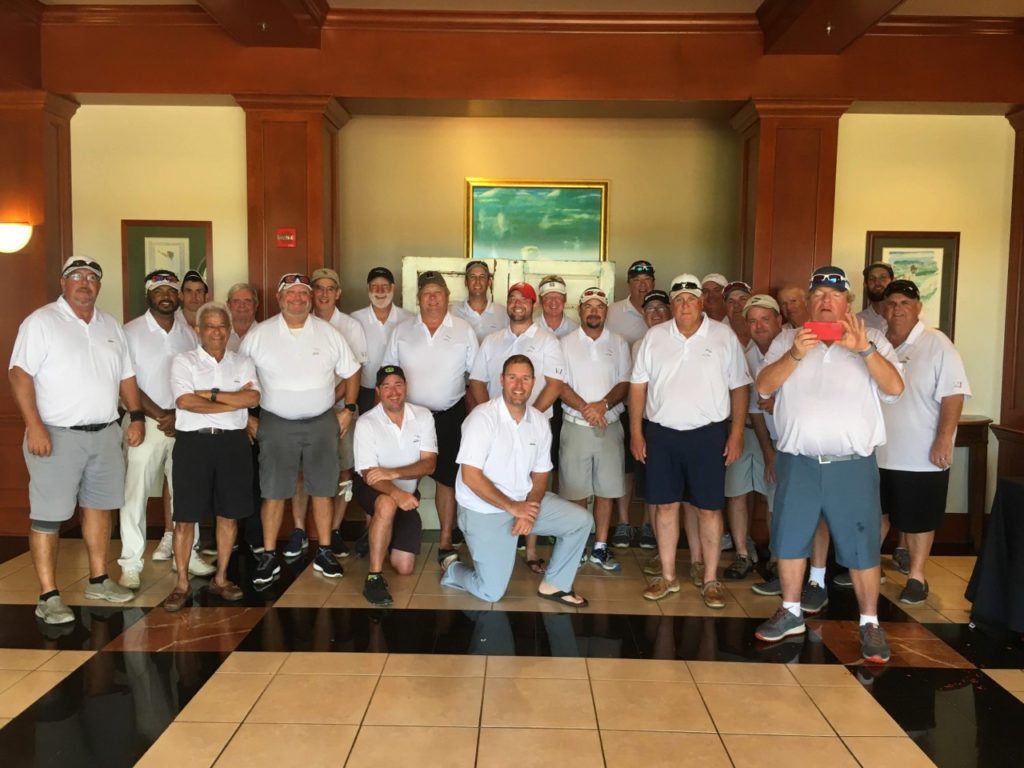 After 6 straight years of a team championship, it was only fair to hand the trophy to the team from Chicago this year and take a very close 2nd place. Congrats to all our guys who represented the AGA so well!
Tyler Refling (Flight B) and Monty Berry (Flight D) both won their flights, and Patrick Burnette (2nd A), Gavin Carpenter (T3 A), Rowdy Hope (T5 A), Thomas Schutt (7th A), Ryan Floyd (5th B), Dave Sexton (T6 B), Jeff Williams (6th C), and Dino Damelio (T4 D) all finished in the top of their flights! And Tim Wilhoit had a hole in one on the first day of the tournament!
Competition and courses were great, weather was Florida in the fall, and it was a lot of fun again this year!
Follow this link for full results.
A Flight
Pos.
Player
Total
R1
R2
R3
Total
To Par
Net
Net
1

Dunphy, Thomas

-8
70
70
69
209
TOUR of Greater Boston
2

Burnette, Patrick

-4
68
74
71
213
Amateur Golfers Association
T3

Carpenter, Gavin

-1
74
73
69
216
Amateur Golfers Association
T3

Stoll, Chris

-1
68
75
73
216
TOUR of Greater Boston
T5

Hope, Rowdy

2
75
79
65
219
Amateur Golfers Association
T5

Roberts, Simon

2
77
71
71
219
TOUR of Greater Boston
7

Schutt, Thomas

5
69
78
75
222
Amateur Golfers Association
8

Birnbaum, Steve

6
72
80
71
223
TOUR of Greater Boston
T9

Nudd, Mike

8
76
75
74
225
Amateur Golfers Association
T9

Elgin, Thomas

8
73
76
76
225
Amateur Golfers Association
T11

Bonica, Matt

9
79
74
73
226
TOUR of Greater Boston
T11

Veydt, Steven

9
77
76
73
226
TOUR of Greater Boston
T13

Evanoka, Drew

10
75
79
73
227
Pittsburgh Golfers Tour
T13

Campbell, Gil

10
77
78
72
227
Amateur Golfers Association
T13

Vachon, Marc

10
77
81
69
227
TOUR of Greater Boston
16

Luther, Andy

11
76
75
77
228
TOUR of Greater Boston
17

Pici, Joe

12
78
72
79
229
Pittsburgh Golfers Tour
T18

Schwartz, Dave

15
76
76
80
232
WCGT
T18

Wciorka, Claudia

15
77
78
77
232
WCGT
T20

Featherstone, Larry

16
76
83
74
233
WCGT
T20

Fields, Eddie

16
83
78
72
233
Amateur Golfers Association
22

Griffith, Paul

18
83
74
78
235
TOUR of Greater Boston
23

Regan, Mike

19
81
80
75
236
TOUR of Greater Boston
24

Dunn, Terry

22
76
80
83
239
Amateur Golfers Association
T25

Regan, Gail

26
85
80
78
243
TOUR of Greater Boston
T25

Siegel, Eric

26
80
83
80
243
TOUR of Greater Boston
B Flight
Pos.
Player
Total
R1
R2
R3
Total
To Par
Net
Net
1
Refling, Tyler
-16
60
73
68
201
Amateur Golfers Association
2
Kirchoff, Dean
-4
70
76
67
213
WCGT
3
Baldwin, Dave
E
74
70
73
217
WCGT
4
Gomez, Eugene
2
69
78
72
219
WCGT
5
Floyd, Ryan
6
77
74
72
223
Amateur Golfers Association
T6
Sexton, David
9
78
79
69
226
Amateur Golfers Association
T6
OSullivan, Brian
9
72
78
76
226
WCGT
8
Kannan, Ravi
11
75
80
73
228
Amateur Golfers Association
9
Rogers, Todd
12
77
75
77
229
Amateur Golfers Association
T10
Beverly, Peter
13
71
81
78
230
Amateur Golfers Association
T10
Williams, Art
13
78
76
76
230
Amateur Golfers Association
T12
Witonsky, Scott
14
86
75
70
231
TOUR of Greater Boston
T12
Ezick, James
14
80
77
74
231
Pittsburgh Golfers Tour
T12
Dickhaut, Gerry
14
79
77
75
231
TOUR of Greater Boston
T15
Chagnon, Mike
15
74
82
76
232
TOUR of Greater Boston
T15
Olander, Jeff
15
80
70
82
232
Pittsburgh Golfers Tour
T15
Robertson, Matthew
15
74
77
81
232
TOUR of Greater Boston
T18
Ramsbotham, John
16
82
75
76
233
Pittsburgh Golfers Tour
T18
Caputo, Chris
16
80
76
77
233
Pittsburgh Golfers Tour
T20
Cherny, Tom
18
80
81
74
235
Pittsburgh Golfers Tour
T20
Fairweather, Bob
18
83
75
77
235
TOUR of Greater Boston
T20
Frantti, Jim
18
76
79
80
235
Pittsburgh Golfers Tour
23
Drucker, David
20
79
80
78
237
TOUR of Greater Boston
24
Kostyal, Raymond
27
77
90
77
244
Amateur Golfers Association
25
George, Carl
29
79
86
81
246
Amateur Golfers Association
26
Germano, Charles
31
92
77
79
248
Amateur Golfers Association
C Flight
Pos.
Player
Total
R1
R2
R3
Total
To Par
Net
Net
1

Rieg, Dan

-13
65
68
71
204
Pittsburgh Golfers Tour
2

Hetrick, Joseph

-9
71
71
66
208
Pittsburgh Golfers Tour
3

McClymonds, Donna

-6
66
78
67
211
Pittsburgh Golfers Tour
4

Lanchester, Wayne

-3
72
72
70
214
TOUR of Greater Boston
5

Ranney, Nathan

-2
72
71
72
215
TOUR of Greater Boston
6

Williams, Jeff

E
79
69
69
217
Amateur Golfers Association
7

Fedor, Joseph

1
74
73
71
218
Pittsburgh Golfers Tour
T8

Williams, Rusty

2
77
73
69
219
Amateur Golfers Association
T8

Cox, Mike

2
73
67
79
219
WCGT
10

Smith, Ken

3
75
73
72
220
WCGT
11

Wilhoit, Tim

5
69
74
79
222
Amateur Golfers Association
12

Yandrich, Eric

6
75
73
75
223
Pittsburgh Golfers Tour
T13

Johnson, John

7
72
77
75
224
Pittsburgh Golfers Tour
T13

Nelson, Brian

7
76
69
79
224
TOUR of Greater Boston
15

King, Dave

8
73
73
79
225
Pittsburgh Golfers Tour
T16

Glomb, John

9
76
75
75
226
Pittsburgh Golfers Tour
T16

Kaye, Barry

9
73
76
77
226
TOUR of Greater Boston
18

Maestas, Andy

11
83
78
67
228
Amateur Golfers Association
19

Schafer, David

13
78
78
74
230
TOUR of Greater Boston
20

Goulet, Rich

14
76
83
72
231
TOUR of Greater Boston
T21

Bochenczak, Steve

17
79
78
77
234
WCGT
T21

Deal, Billy

17
78
78
78
234
Amateur Golfers Association
T23

Dimartino, Mary Jane

18
82
75
78
235
Pittsburgh Golfers Tour
T23

Hartupee, John

18
76
83
76
235
Pittsburgh Golfers Tour
25

Mckenna, Sean

29
82
81
83
246
TOUR of Greater Boston
26

Maxwell, James

31
81
85
82
248
TOUR of Greater Boston
D Flight
Pos.
Player
Total
R1
R2
R3
Total
To Par
Net
Net
1

Berry, Monty

-11
68
69
69
206
Amateur Golfers Association
2

OConnell, Ann

-8
69
75
65
209
WCGT
3

Sobocinski, Mike

-6
79
69
63
211
Pittsburgh Golfers Tour
T4

Damelio, Dino

-3
70
72
72
214
Amateur Golfers Association
T4

McClymonds, Gary

-3
74
68
72
214
Pittsburgh Golfers Tour
6

Mulcrone, Mike

-1
71
77
68
216
WCGT
7

Stryzcula, Bruno

1
72
78
68
218
WCGT
8

Bible, Bernie

3
75
73
72
220
Pittsburgh Golfers Tour
9

Pach, Andrew

4
82
74
65
221
WCGT
10

Zittnan, Eileen

5
69
81
72
222
WCGT
11

Keeter, Brad

6
73
76
74
223
Amateur Golfers Association
T12

Beatty, Elmer

8
72
71
82
225
Pittsburgh Golfers Tour
T12

Kestner, Dan

8
89
69
67
225
Pittsburgh Golfers Tour
T12

Smith, Jim

8
83
69
73
225
Pittsburgh Golfers Tour
15

Denenberg, Neil

10
73
80
74
227
TOUR of Greater Boston
16

Daniel, Randy

12
75
80
74
229
Amateur Golfers Association
17

Muench, Mark

15
74
81
77
232
WCGT
T18

Orr, Ed

16
80
80
73
233
Pittsburgh Golfers Tour
T18

Changelon, Steve

16
79
74
80
233
WCGT
20

Beck, Dennis

18
82
81
72
235
Pittsburgh Golfers Tour
21

Stinehour, Mark

19
82
77
77
236
TOUR of Greater Boston
22

Puglisi, Michael

23
88
77
75
240
Amateur Golfers Association
23

Shultz, Fred

31
81
78
89
248
TOUR of Greater Boston
24

Floyd, Rodney

33
90
86
74
250
Amateur Golfers Association
T25

Anderson, Bill

35
83
73
96
252
TOUR of Greater Boston
T25

Buckley, Joseph

35
99
73
80
252
TOUR of Greater Boston